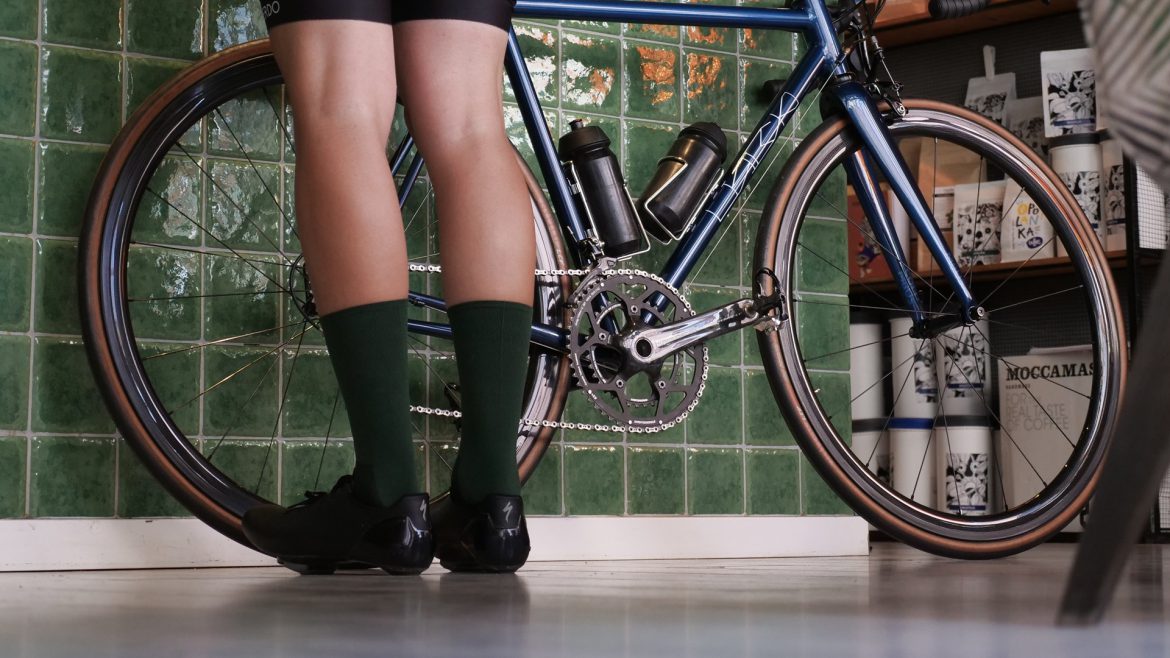 This short, 5-minute reading will give you some useful tips on choosing cycling socks. Here we present our thoughts on the choice of socks and how to match them with other elements of cycling clothing. Thanks to these tips, you'll learn how to look good on your bike by combining right colors of your outfit. Tips on good fitting of your cycling socks are also included.
1. Purpose and material of cycling socks.
It is not without reason, that there is a product such as a cycling sock. The cycling specific socks are characterized by properly selected materials, fitting and appropriate, comfy seams. Products in this category are designed to provide comfort over long distances by adequate moisture management and ventilation, and by the absence of any discomfort caused by the structure of the sock. In the market you can find cotton and synthetic socks. In our experience, synthetic socks perform much better, mainly due to their durability and ventilation properties of the material. You should feel the sock like a second skin.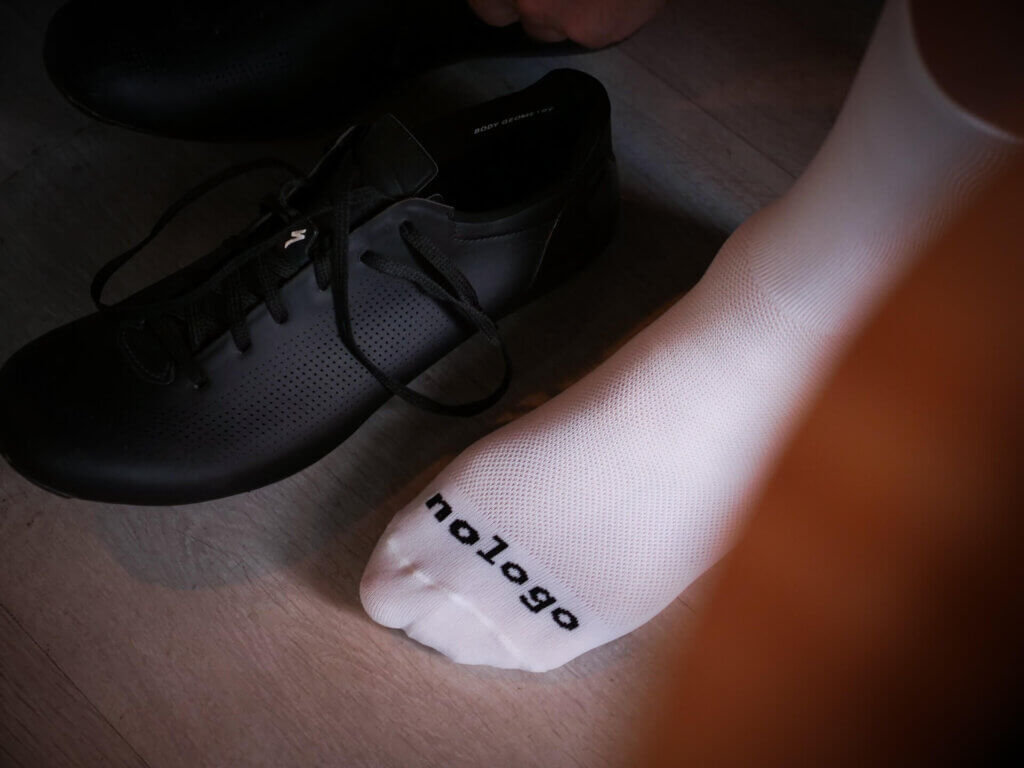 2. Does the height of cycling socks matter?
Of course yes. Following the example of pro peloton competitors, we use long socks – maximally half-calf high (this, actually, is regulated by the UCI rules). However, one thing has to be noted – all pros except some sprinters have very slim calves. In our opinion, you should adjust the sock to the shape of your own calves. If you have broad and large calf muscles, you shouldn't stretch your socks on them. It should end below, where the muscle begins. Such fitment of the sock will optically lengthen the calf and give it better proportions. If you have slim calves, there are no contraindications to putting on long, mid-calve socks.
3. Ideas and rules for the color.
The color of cycling socks should match the outfit, shoes and ultimately the bike. It's the best and the safest (at least in terms of style) to wear white or black socks. They are neutral and match any color set. The only combination not recommended by us is a black sock with a white shoe. Although there are exceptions to this rule and some people accept it. The second option can be match of color between jersey and socks. The combo always looks good, especially if you wear black bibs. The third option is an out-of-saturation outfit and socks that match the color of your shoes or bicycle. More experienced in color theory can combine different colors, but in this case you should know what to do so that you don't spoil your appearance on the bike.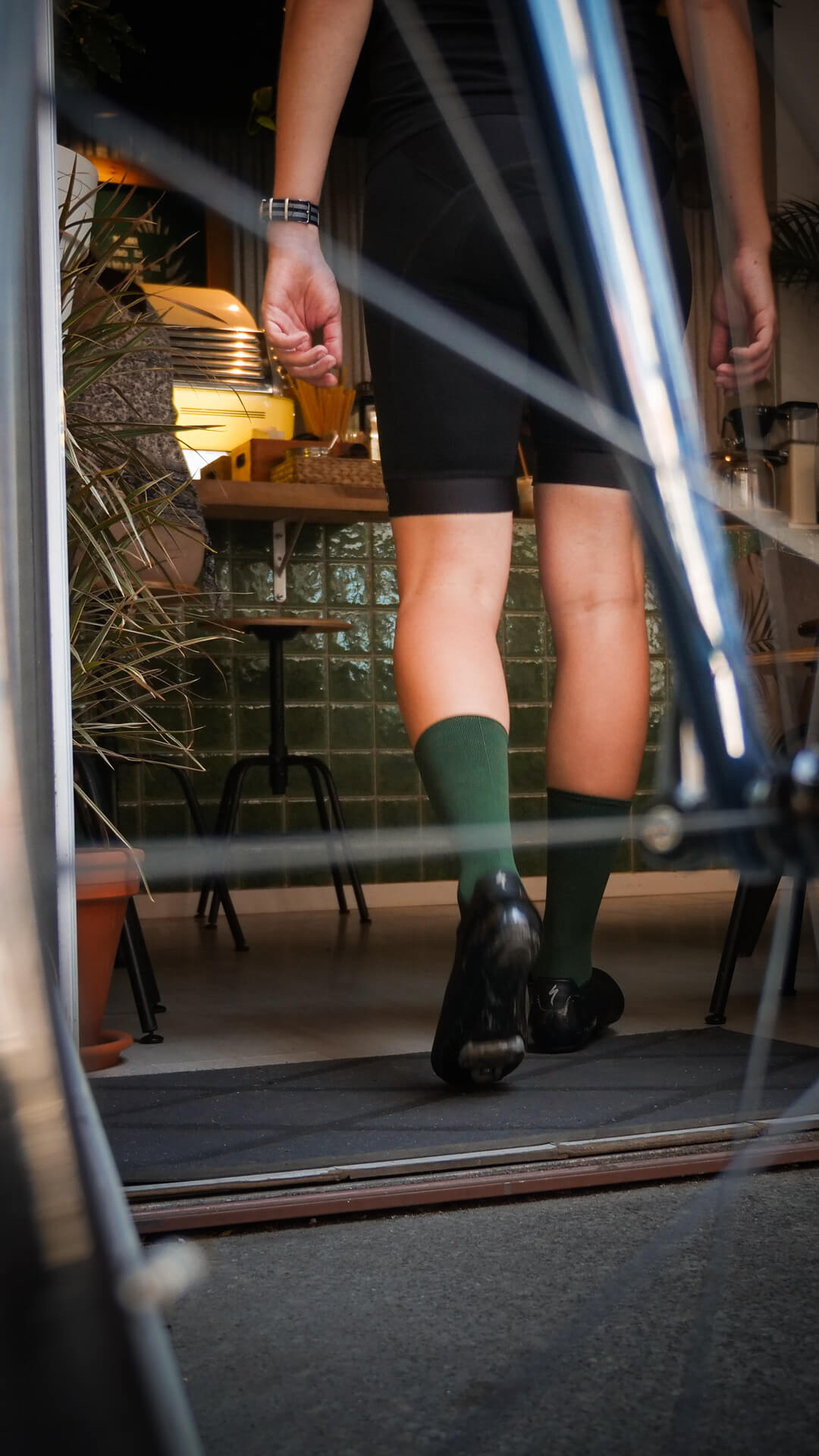 4. Leading manufacturers of cycling socks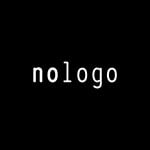 In the cycling industry, it's hard to point to a leading sock manufacturer. Usually, every cycling clothing manufacturer has socks in their offer. Those models are well suited to the whole collection and matched to it in terms of design. In contrast, our brand – nologo is focusing only on cycling socks. Comfort for the cyclist's feet and strive for excellence in this field is our main goal. Compared to the competition, we can boast of high-quality socks refined in terms of performance, design and selection of materials.
5. Classy shoes and good care are a must.
No matter how well you choose the colors of your cycling clothing, if you add poorly selected shoes to it – everything'll go to waste. Get to know the bicycle footwear market and draw your own conclusions. We advise, however, minimalism. Both white and black shoes are great, especially if you have several bikes and want to match your outfit. Imagine a green bike and red shoes. It even sounds bad, right? Taking care of your shoes and socks is another thing. If you wear the same 2-year-old, once-white, washed socks with your beautiful new white shoes – it will look terrible. Take care of the correct washing of white socks and the cleanliness of your shoes. It's the basis.

We hope that these few basic tips will allow you to improve your cycling style. Apparently, reliable sources say, that good looks are good mood and the good mood is + 50W on the sprint.
Probably worth a try 🙂
We also invite you to look at our products. Our customers say they are really cool. However, this is already completely confirmed and reliable information. Without any "apparently" this time.
Socks

Perfect for warm-to-hot weather conditions, our lightweight cycling socks offer high breathability combined with exceptional durability, thanks to mesh construction at the top and hi-density fabric at the footbed.We also thought about the long-distance/endurance riding comfort as the socks are held together with flatbed stitching. The fabric we used is two times lighter than cotton and improves moisture management significantly.

Choose your size:

€

12,00